Standing Before Hell's Gate
The Last Brigade Book 4
It was all going so well for Nick Angriff and the 7th Cavalry… until it wasn't.
When Angriff awakened in a world where America no longer existed, he vowed to resurrect his beloved country. Put in command of Operation Overtime and all U.S. forces in the post-American world, he assumed that everyone under his command wanted the same thing.
But he was wrong. And now the forces arrayed against him have the power to crush freedom once and for all.
With all of the twists, turns, deceptions, and action you've come to expect from a series that one reviewer called "the best I've ever read," Standing Before Hell's Gate begins the Showdown Trilogy, where Nick confronts his enemies in a final fight for control of Operation Overtime, while the rebirth of the American Republic hangs in the balance.
Audiobook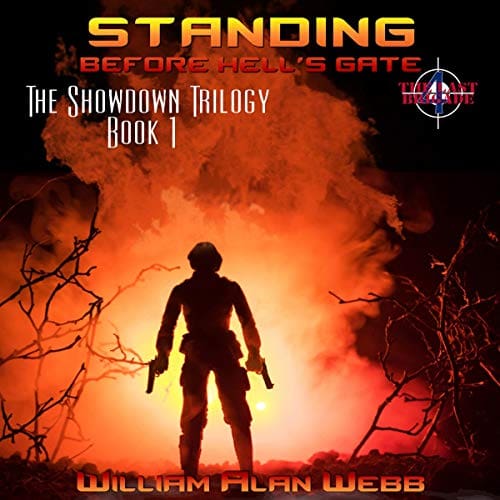 Narrator: James Romick
Duration: 14 hours and 18 minutes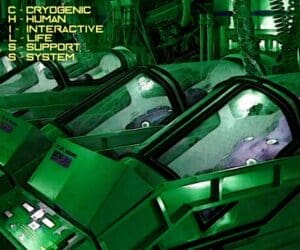 From page 92 of Standing The Final Watch
Throughout the immense space the CHILSS, Cryogenic Human Interactive Life Support Systems, opened as their inhabitants came back to consciousness.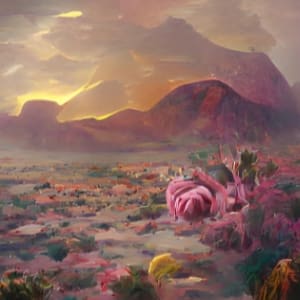 Operation Overtime
Hidden inside a mountain in Arizona, the men and women of the Last Brigade woke to a world of wonder and ruin, of beauty and slavery. With the world they'd known destroyed, it was time to lock and load and get on with the business of resurrecting freedom.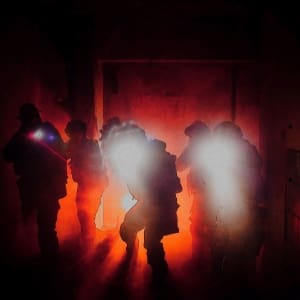 If you target someone for assassination, you'd better not miss
Task Force Zombie prowling the unfinished tunnels inside the mountain.
Reviews
---
5 Stars "I'll say right here that Standing the Final Watch is excellent… The book has been finely edited; the story is cohesive and keeps moving; and the dialogue is spot on. If you're any fan of…Clancy or Greaney, even James Rollins or Clive Cussler, you're going to enjoy this book. There's just enough sci-fi to create an intelligent "What if?" scenario, and there are twists and turns enough that it's impossible to get bored. I couldn't put the book down, and honestly, I didn't really want to. Standing the Final Watch gets a strong 4 out of 4 Stars from me. This story is just well-told and enjoyable." — Eric Morris, goodreads.com
5 Stars "I found this to be a great book with a common theme of many apocalypse type stories but with some great new twists and a great main character. General Angriff seems a bit like I imagine General Patton was and certainly 'apes' him with his Desert Eagle and attitude but I enjoyed his character. Certainly the twists with the suspended animation of all those soldiers is great but the sub-plots and twists keep the tension high." — Ian Brown, Amazon Review
5 Stars "You will not want to put this book down. From its opening chapter to the very end, you will be drawn from one chapter to the next. Bill Webb is clearly an avid reader, historian and talented writer…Webb shows his deep respect for our military and his concern for our nation." — Bart Bechtel, Amazon Review
5 Stars "The author has done a great job with this story. Characters are believable and are being well developed. Minimal editing issues. I'm really looking forward to part 2. The author needs a big attaboy for this story." Harry L. Skinner, goodreads.com"What I like the best about this book was the portrayal of the characters. I felt like I was in the novel and experiencing whatever the characters were experiencing. The author spent a good part of the book building up the relationships between the characters. All the characters, from the good guys to the bad guys, were crafted into believable and well-developed characters. Nick Angriff came off as a rough, but likable character. His best friend, Norm Fleming, helped to build up Nick's character by helping him with any problem that he faced. Overall, I rate this book 4 out of 4 stars. Because of the suspenseful action scenes and the portrayal of the characters, I truly enjoyed reading this book. I would recommend this book to readers who like to read post-apocalyptic thriller books." — Onlinebookclub.org
From The Author
---
First and foremost, thank you for reading my work.
When you spend your hard-earned money to purchase my book(s), it's a humbling experience. I feel a deep responsibility to give you the best books possible, not only in terms of plot, characters and narrative, but also proper word usage and grammar. This does not and should not imply perfection on my part. Far from it. However, whatever errors may creep into the work are regretted by the author, who asks forgiveness in advance.
My one and only intention for this and my other books is to entertain the reader. Perhaps to also inform, especially in my non-fiction, but information is only useful when delivered in such a way that it's remembered.
Readers are special people. I appreciate you all because I'm one of you. Books are my life, as my overflowing bookshelves will attest. Everything I have done in my life has led to this moment. From majoring in Creative Writing to absorbing military history over the last 50+ years, I have devoted my life to this book and all those yet to come.
I pray you feel the effort was worthwhile.